Damage to Countries - Sri Lanka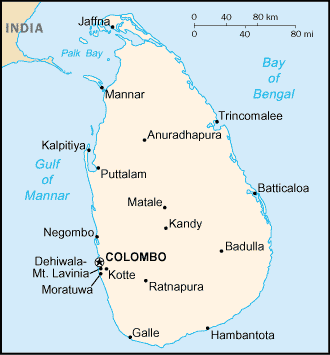 Map of Sri Lanka
Source
: CIA World Factbook
An island nation situated in the Indian Ocean, Sri Lanka was the 2nd worst hit by the tsunami. However, in terms of country size, Sri Lanka was in fact hit harder by the tsunami than Indonesia because most of its coastline was hit by the deadly waves.
Sri Lankan authorities report 30,196 confirmed deaths as of 3 January 2005 after the island was hit by the tsunami. Many of the dead were children and the elderly. The south and east coasts were worst hit. An estimated one and a half million people have been displaced from their homes.
Roughly 1,200 bodies were counted at Batticaloa in the east. 800 were reported dead when the tsunami reached more than 2 kilometres (1.25 miles) inland at Trincomalee to the northeast. More than 5,000 are dead in the Amparai district. Even a train, the "Sea Queen", moving between Colombo and Galle was struck by the killer waves, killing 1,300 onboard out of the 1,600 passengers.
The agricultural sector has been adversely affected by the aftermath of the tsunami. 259 hectares of paddy land along the coast were destroyed. Furthermore, the paddy lands which were flooded with salt water cannot be used for cultivation due to the salinity of the soil. Large numbers of agricultural machinery have been destroyed and canals and drains have been blocked. Wells have also been flooded with salt water.
Many hotels were damaged as well. Hotels along the southern coast were packed with both foreign tourists and Sri Lankans making use of the long Christmas weekend.
The main highway in the southern Sri Lanka which runs along the coast was closed in the wake of the tsunami, delaying relief supplies.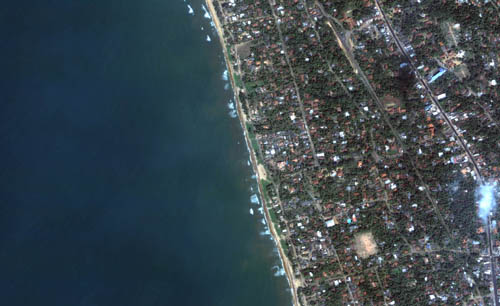 Kalutara Before Tsunami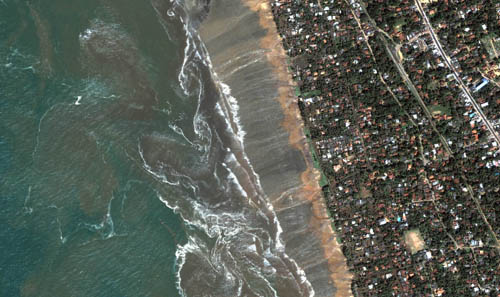 Kalutara After Tsunami
Source
: DigitalGlobe
Videos

Video footage of damage to Sri Lanka Video Footage - Sri Lanka

Shot from an upper level hotel balcony in Sri Lanka. Video Footage - Sri Lanka Resort
References
2004 Indian Ocean Earthquake. Wilkipedia, the free encyclopedia. Retrieved February 10, 2005, from http://en.wikipedia.org/wiki/2004_Indian_Ocean_earthquake
Asia's Deadly Waves. The New York Times.Retrieved February 24, 2005, from http://en.wikipedia.org/wiki/2004_Indian_Ocean_earthquake
Tide of Grief. Newsweek. Retrieved February 24, 2005, from http://en.wikipedia.org/wiki/2004_Indian_Ocean_earthquake
Content Outline