Damage to Countries - Thailand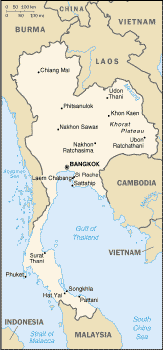 Map of Thailand
Source
: CIA World Factbook
The Thai government reports 5,246 missing and estimates that 8,000 are likely to have died. Several popular tourist resorts such as Phuket, Khao Lak and the Phi Phi Islands were hit hard by the waves. The resort area of Khao Lak report 3,950 confirmed deaths and the final count may very well exceed 4,500.
Hundreds of holiday bungalows on the Phi Phi Islands were washed out to sea. Bhumi Jensen, grandson of His Majesty King Bhumibol Adulyadej, was among those killed. A large number of foreigners holidaying at these resorts were among the dead as well.
The tourism and fishing sectors have been adversely affected by the aftermath of the tsunami. The beach resorts along the Andaman Sea coast have been extensively damaged it will take many years for recovery. Numerous hotels and small businesses have been ruined and the price for recovery will be extremely costly.
Videos

Video footage of damage to Koh Lanta, Thailand Video Footage - Koh Lanta, Thailand

Rooftop view of two huge waves battering buildings along coastline of Patong Beach. Video Footage - Patong Beach, Thailand
Ghosts in Phuket?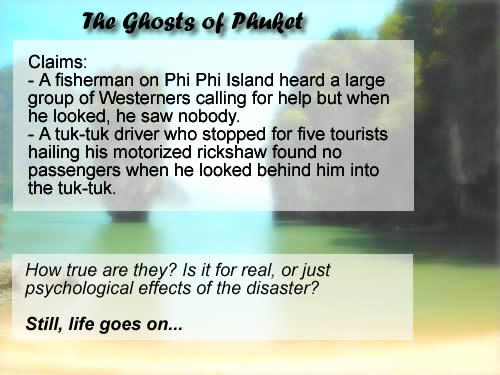 Reference (text): International Herald Tribune. The ghosts of Phuket. Retrieved April 21, 2005, from http://nguoi-viet.com/absolutenm/anmviewer.asp?a=21319&z=9
Background Picture Source: Ferien Phuket
References
2004 Indian Ocean Earthquake. Wilkipedia, the free encyclopedia. Retrieved February 10, 2005, from http://en.wikipedia.org/wiki/2004_Indian_Ocean_earthquake
Asia's Deadly Waves. The New York Times.Retrieved February 24, 2005, from http://en.wikipedia.org/wiki/2004_Indian_Ocean_earthquake
Tide of Grief. Newsweek. Retrieved February 24, 2005, from http://en.wikipedia.org/wiki/2004_Indian_Ocean_earthquake
Content Outline