Global Earth Observation System of Systems (GEOSS)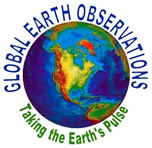 EOS Logo
Source
: National Oceanic and Atmospheric Administration
The GEOSS was proposed by the G-8 in 2003 with the US initiating the process in an effort to build a global observation system. Currently, the GEOSS consists of 54 participating contries.
ON 14th January 2005, the United States (USA) National Oceanic and Atmosphere Administration (NOAA), announced that it will expand the Global Earth Observation System of Systems (GEOSS), which is an effort by the international community to develop an integrated Earth Observation System.
NOAA plans to deploy 32 high-tech Deep-ocean Assessment and Reporting of Tsunami (DART) buoys by middle of 2007. The expansion of the system will provide the US with the ability to predict tsunami arrival times and activate response within minutes along the US coasts.
Hopefully, the system can help in reducing potential dangers and loss of lives in future.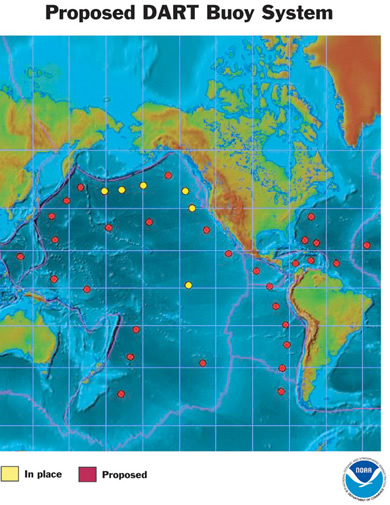 Proposed System
Source
: National Oceanic and Atmospheric Administration
Related Readings
References
U.S. ANNOUNCES PLAN FOR AN IMPROVED TSUNAMI DETECTION AND WARNING SYSTEM. NOAA. Retrieved February 8, 2005, from http://www.noaanews.noaa.gov/stories2005/s2369.htm
The Tsunami Warning System. Earth and Space Sciences at University of Washington. Retrieved February 8, 2005, from http://www.geophys.washington.edu/tsunami/general/warning/warning.html
Tsunami Warning System. Wikipedia - The Free Encyclopedia. Retrieved February 8, 2005, from http://en.wikipedia.org/wiki/Tsunami_warning_system
New Scientist Breaking News - Indian Ocean tsunami warning system by mid-2006. Retrieved February 20, 2005, from http://www.newscientist.com/article.ns?id=dn6905
Tsunami early warning 'next year'. BBC News. Retrieved February 20, 2005, from http://news.bbc.co.uk/2/hi/south_asia/4168917.stm
Content Outline