How to use this site
Don't know where to start? Check out the Home page, where you will be able to see huge icons. These icons represent the primary chapters we have in the webpage. Click on one to get started, or simply jump straight to the interactive section if you are looking for some challenges.

Recommended Site Requirements
Happy browsing through the site!
Unique Features
Our site offers a unique perspective into the tsunami disaster. Below are some of the unique features that our site has.
Useful Header Bar

The user-friendly header bar contains icons which offer easy access to important functions such as print and sitemap.
Interactive Elements

We have made interaction an important priority. While browsing through the site, users can learn more effectively through interactive games, crosswords, and even a special interactive atlas (see above).
InfoGraphic

Reading from the screen can be pretty boring and we know that. That is why we have InfoGraphics on certain pages,so that the user can read more about related articles. One such InfoGraphic is Fire on the Rice Sheeves.
PhotoStory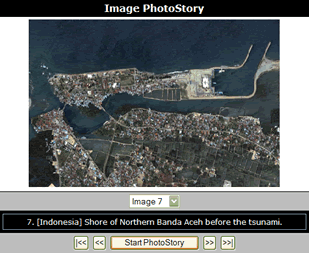 PhotoStory provides images that are displayed in animated sequence, with a caption below. Each photo tells a different idea, a whole new perspective.
Detailed Citations

For each page containg content, we have detailed citations which follow the internationally recognised APA (American Psychological Association) Style. By using this style of citation, we hope everyone will be able to understand.

We even go down the painstaking task of making sure we put down the sources of the images used. This is say we respect the original works of the author.
Go to Top