Interview - www.tidalhelp.com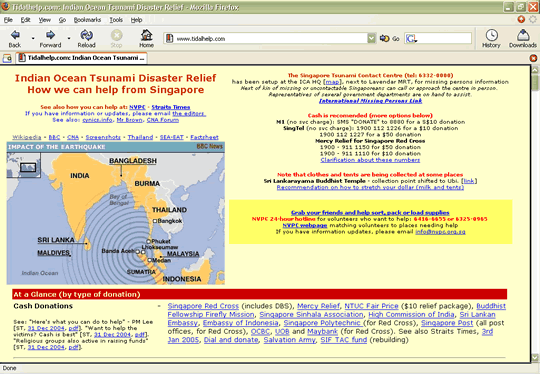 ScreenShot of www.tidalhelp.com
Source
: Taken by the team
Here is an email interview with the co-webmaster,
Mr. Edwin Tan
, of
www.tidalhelp.com
.
What was your intention for setting up www.tidalhelp.com?

Setting up tidalhelp.com was done as there was one pressing problem: a flood of people wanting to help, and a large number of organisations seeking help in the Singaporean context. However, while large organisations such as the Singapore Press Holdings and the Singapore Red Cross Society are able to market their needs for volunteers, small organisations are given scant attention. As such, tidalhelp.com aimed to serve as a central point of information for volunteers seeking opportunities until a quasi-government organisation took a lead in this area.

How do you think Information Technology has proved to be an effective medium for communication between people trapped in different places and their families with reference to the recent tragedy??

Information Technology, in the form of the internet, served three purposes: dissemination of information to the general public, dissemination of information on how to help, and as a medium for people seeking lost loved ones.

Do you agree that the internet will continue to have significant impact on relief efforts in future crisis? and Why?

The internet will have an increasing role in future crises. This is evident from the volume of internet attention and traffic during the September 11 terrorist attacks and this recent tsunami.

How has the response been to your website?

There have been 8000 visitors over 2 weeks and numerous voluntary status updates from various members of the public.

How long do you think the website will stay functional?

Tidalhelp.com has been registered for 2 years effective 1 January 2005. The NVPC (National Volunteer & Philanthropy Centre) has taken an explicit lead as being the central point of information for volunteer opportunities and thus while tidalhelp will remain present, it will serve as an archive.
Go to Top

Content Outline
Go to Top