Case Study: Singapore Armed Forces (SAF)
When the earthquake and tsunami occurred on Dec 26, the SAF, Singapore Armed Forces mounted its biggest-ever rescue and relief operation, Codenamed Operation Flying Eagle. The missions were in four locations in two countries - Medan, Banda Aceh and Meulaboh in Indonesia and Phuket in Thailand. Singapore Air Force aircraft also flew supply and support missions to Sri Lanka, the Maldives and Mauritius.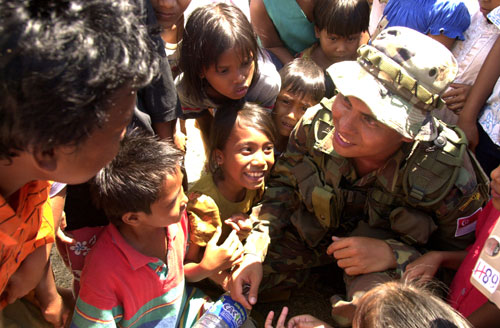 Like many of the SAF soldiers at Meulaboh, liaison officer SSG Muhamad Azam Aziz (right) was a hit with the local residents - both young and old.
Source
: Ministry of Defence, Singapore
At a Glance
Timeline
Accomplishments
Experiences
Conclusion
Timeline
| | |
| --- | --- |
| Dec 26 2004 | A magnitude 9.0 earthquake occurred off the west coast of northern Sumatra, Indonesia. The earthquake generated tsunamis which swept across the Indian Ocean within hours. |
| Dec 28 2004 | A planning team was asked to get a complement of medical people, field engineers, divers, helicopter detachment and support personnel for the Endurance |
| Dec 29 2004 | The Indonesians informed Singapore that communities in the West coast were indeed cut off and Meulaboh was one of them. The first two Chinooks reached Medan in the evening. |
| Dec 30 2004 | An RSAF (Republic of Singapore Armed Forces) Chinook helocopter was the first to deliver relief aid to the people of Meulaboh with a shipment of water, food and medicine |
| Jan 2 2005 | Endurance reached the devastated coastline of Meulaboh in Aceh province. The 470 men on board the Endurance linked up with the advance party on shore who had earlier flown in from Medan by a SAF helicopter as well as begin the work of finding a landing site. An inflatable boat and two landing craft (FCEPs) also carried some people ashore and returned with the advance party, led by Meulaboh task force commander Colonel Tan Chuan Jin. |
| Jan 3 2005 | The first phase was launched. Armed with information from the advance party, the men prepared the landing beach by building a ramp with 700 sandbags. The divers had established one landing beach and developed a second with the help of the Indonesian armed forces, Tentera Nasional Indonesia (TNI). |
| Jan 4 2005 | Singapore Prime Minister Lee Hsien Loong, together with Singapore Defence Minister, Rear Admiral Teo Chee Hean and other officials, arrived in Meulaboh during his 16-hour tour of northern Sumatra. A chartered Boeing 737 cargo aircraft reportedly hit a buffalo, which damaged its wheel and left it stranded on the sole runway of Banda Aceh airport. This brought all relief flights into the airport to a halt. An RSAF Chinook which lifted TNI satellite communication systems, including a huge parabola dish and a team of people, from Banda Aceh into Meulaboh. |
| Jan 9 2005 | An RSAF Chinook also assisted in the insertion of Telkomsel GSM base station equipment into Meulaboh. |
| Jan 21 2004 | The RSS Endurance and Endeavour sailed back to Singapore |
Minister Teo welcoming Colonel Tan Chuan-Jin with a warm handshake.

Source

: Ministry of Defence, Singapore

Displaced residents queuing for food supplies.

Source

: Ministry of Defence, Singapore
Accomplishments
Summary of important accomplishments of the SAF which were crucial to the situation in Aceh.
They created land and air bridges by building two beach landing points and seven helicopter landing sites in Meulaboh.
The SAF field hospitals in Meulaboh and Banda Aceh cured 5174 patients
190,000kg of relief supplies was ferried by Landing Ship Tanks.
RSAF Chinook and Super Puma helicopters flew 143 missions, ferried 150,000kg of relief supplies and carried 2,500 passengers.
C-130 and Fokker-50 aircraft flew 76 missions, ferried 240,000kg of relief loads and carried 1,200 passengers.
The engineers built a modular building, approximately 139 square metre and two logistics storage areas.
The SAF set up a mobile air traffic control tower and air traffic control support.
About 70 personnel would continue assistance with the presence of two liaison teams and three Chinooks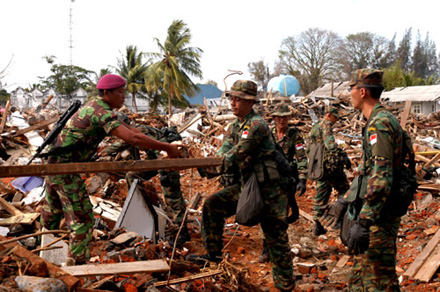 SAF troops worked hand-in-hand with TNI soldiers in Meulaboh to create two landing sites on the beach.
Source
: Ministry of Defence, Singapore
Experiences
The Navy managed to obtain the only and special hand-traced sea chart of the Meulaboh area in western Sumatra, which was critical for navigation in the unfamiliar waters of Meulaboh. This could only be done due to the close relationship developed over the years between the SAF and the Tentera Nasional Indonesia (TNI).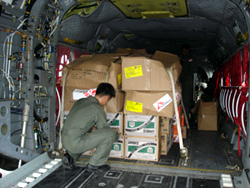 Relief supplies are sent to Meulaboh by Chinooks.
Source
: Ministry of Defence, Singapore
When more ships arrived, there was no chart to spare. The admiral's staff sacrificed their time, manually traced a copy of the chart for SAF. Due to their well bilateral relationship, the Indonesian was willingness to go the extra mile for SAF. The SAF commanders were also familiar with the key Indonesian military personnel running the emergency relief work in Aceh and they spoke their language and knew how to relate to the Acehnese, unlike many other foreign troops. Hence the TNI officers were comfortable with the presence of the SAF officers and were impressed with the SAF's low profile and the sincerity of its assistance.
The SAF were surprised by the resilient and the will to live of the Indonesian people, although exhausted, they still continued to work tirelessly to clear debris and remove bodies.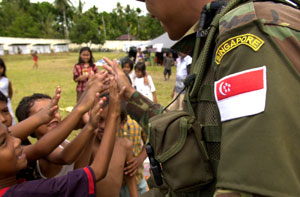 After three weeks of relief efforts, the restoration phase had begun and perhaps the greatest lesson learnt was that of the indomitable human spirit.
Source
: Ministry of Defence, Singapore
As noted by Singapore Defence Minister, Rear Admiral Teo Chee Hean, "There is a strong spirit amongst the Indonesian people, a good number of them leaders and commanders. It was during times like these that leadership on the ground made a difference."
Conclusions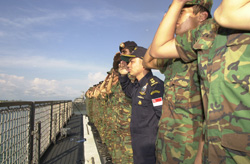 Soldiers on board RSS Endurance giving a final salute before returning to Singapore.
Source
: Ministry of Defence, Singapore
The SAF realized that careful and forward planning and well thought-out strategies and policies were important. Team work also played an important role. The regulars, National Servicemen, operationally ready National Servicemen and volunteers were all involved and were able to work as a team. This shows the close integration between army, navy and air force. The operation erased any doubts about the operational readiness of the SAF.
The SAF are professional and flexible when faced with difficult circumstances. They found the best way to get ashore, to bring equipment in, to fly helicopters to places unknown, and to locate places to land. The field engineers found sea landing sites as well as clear and create new landing sites for heavy helicopters.Without all this, the success of the Operation Flying Eagle would not be possible.
The success of Singapore's biggest-ever tsunami deployment has boosted the public's confidence and pride in the SAF. The mission has given the SAF more belief in their system, in the way they do things, in the way they train and in the way the leaders lead their comrades.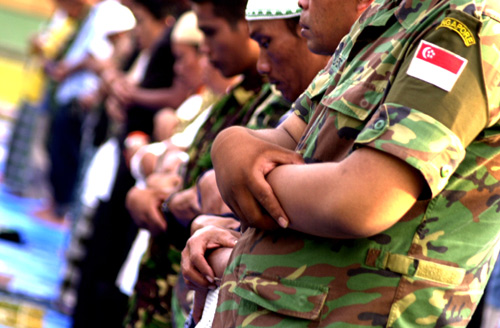 On the day they bade farewell to Meulaboh, about 70 Muslim SAF soldiers joined TNI soldiers and locals in a prayer session on Hari Raya Haji morning.
Source
: Ministry of Defence, Singapore
Related Readings
References
OPERATION FLYING EAGLE - The inside story of the SAF's tsunami relief deployment. AsiaOne News Link. Retrieved March 14, 2005, from http://nnewslink.asia1.com.sg/brsweb/read_1.brsw?this=result&QDT=1&QFLST=HD%3AHG%3APD&DB=ST%4004-05&QSTR=%28%28Operation+Flying+Eagle+inside+story+%29%29.HD.&DTSTR=%28%28PD+%3E=+20041012%29+and+%28PD+%3C=+20050314%29%29&PSZ=30&MAXL=400&SUMY=2&HLT=1&LSTN=0&ID=000006040@ST05
Setting up a lifeline to Aceh. Straits Times Interactive. Retrieved February 20, 2005, from http://straitstimes.asia1.com.sg/sub/news/story/0,5562,301708,00.html?
Mission Accomplised. Straits Times Interactive. Retrieved February 27, 2005, from http://straitstimes.asia1.com.sg/sub/news/story/0,5562,302893,00.html?
Content Outline