Case Study: US Relief Efforts
In response to the december 26 quake and tsunami, the United States of America was one of the first countries to express willingness to help in relief efforts. Its leaders in top positions also made several trips to the affected countries to view the situation and to rally people to donate generously.
Its prompt and swift response to the call for help in these countries have helped to save many lives and aided vastly in relief efforts. Their involvement was hence crucial to the success of the numerous relief operations carried out. One of the highlights was the involvement of ex-presidents Bill Clinton and George H.W. Bush, which will be covered in detail here.
At a Glance
Profile
The Tour
Accomplishments
Conclusion
Profile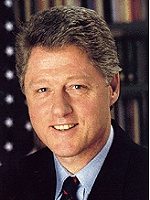 Bill Clinton
Source
: jimpoz.com Quote
Repository
William Jefferson Clinton was elected President of the United States in 1992, and served a two year term until 2000. Under his leadership, the United States enjoyed the strongest economy in a generation and the longest economic expansion in U.S. history.
In the world, he successfully dispatched peace keeping forces to war-torn Bosnia and bombed Iraq when Saddam Hussein stopped United Nations inspections for evidence of nuclear, chemical, and biological weapons. He became a global proponent for an expanded NATO, more open international trade, and a worldwide campaign against drug trafficking. He drew huge crowds when he traveled through South America, Europe, Russia, Africa, and China, advocating U.S. style freedom.
After leaving the White House, President Clinton established the William J. Clinton Foundation with the dual mission of constructing and endowing the Clinton Presidential Center and continuing the work of his presidency.
More recently, after the devastating tsunami in Asia, President Clinton and Former President Bush formed Bush-Clinton Tsunami Relief Effort to provide much needed aid to the victims of the tsunami. In addition to this, President Clinton helped found the American India Foundation, which is dedicated to accelerating social and economic change in India by connecting communities and resources across the US and India.
George H. W. Bush
Source
: The MBA CD
George Home Walker Bush served as the 41st President of the United States of America from 1988 to 1992.
During his term in Office, freedom prevailed in the Cold War; the threat of nuclear war was drastically reduced; the Soviet Union imploded and was replaced by a democratic Russia; the Berlin Wall fell, and Germany reunified; and an unprecedented international coalition force liberated Kuwait from Iraq, paving the way for Israel and her Arab neighbors to being anew their quest for peace in the Middle East.
The Tour
Summing up a fruitful three-day tour of the four main tsunami-devastated nations, former Presidents Bill Clinton and George H.W. Bush engaged with child survivors in Sri Lanka and mingled with European tourists in the Maldives. Among the places they visited were Indonesia's Aceh and Medan province, Sri Lanka, Phuket and the Maldives.
"Some of them are still drawing about the tsunami, and some of them are drawing life as they remember it, and as they want it to be again," Clinton said in the fishing town of Weligama on Sri Lanka's battered southern coast. "There was a lot of emotional damage here that's not visible to the eye. We don't want them to be suffering from this five or 10 years from now."
The purpose of the tour was to rally people to donate for the reconstruction process across the Indian Ocean region which is expected to take years to finish completion. Bush also said that tourists around the world could help the Maldives, Sri Lanka and other affected regions recover by returning to its resorts and hence stimulating economic growth.
The ex-presidents had also visited the devastated Thai village of Ban Nam Khem after arriving in Phuket. They experienced the intense tropical heat and looked on children who lost family members in the tsunami presented them with drawings, one depicting a giant wave and a rescue helicopter and the other of huge waves sweeping away people, cars and boats. Bush and Clinton later visited a memorial wall honoring foreign tourists who died, and dined with Thai Prime Minister Thaksin Shinawatra.
"I don't think there's ever been a tragedy that affected the heartbeat of the American people as much as this tsunami has done," the senior Bush had reportedly said. "I don't think you can put a limit on it. It's so devastating. They're still finding wreckage, still actually some bodies being recovered."
Several hundred villagers greeted them from behind barriers, and even young Thai school children in white shirts and red caps waved paper USA flags. One banner in the crowd had even read: "Bill, let's talk please." This was reflective of the overwhelming happiness and excitement the people felt to have received American aid and care.
Accomplishments
In addition to the tour, another excellent example is the "Three Friends: One Goal" tsunami-relief charity golf outing that managed to raise funds of more than US$2 million. The "Three Friends" refer to former Presidents George H. W. Bush and President Bill Clinton and Greg Norman.
U.S. citizens and corporations have donated a total of more than US$1.1 billion for tsunami relief, according to the Center on Philanthropy at Indiana University. The U.S. government has also pledged more than $950 million.
Former President Bill Clinton was named the head of the United Nations Tsunami Reconstruction Efforts in South Asia. U.N. Secretary-General Kofi Annan was quoted as saying "no one could possibly be better qualified for this task."
According to his spokesman, "The secretary-general is confident that President Clinton will bring energy, dynamism and focus to the task of sustaining world interest in the vital recovery and reconstruction phase."
A few of Mr. Clinton's tasks will be to make certain that donors honor their pledges and donate the money promised to relief efforts, and that the money reaches the communities who need it most desperately, as well as garnering support for a regional early-warning system and other disaster control procedures and systems. He would also ensure that the money pledged would be spent in an effective, responsible and transparent manner. In addition, rebuilding of the affected areas to be better than before, with improved housing, schools, sanitation systems and more diversified economies, and to populate a list of best procedures for early-warning systems and disaster control, would also be part of his job scope.
"I want people here at home in America and throughout the world ... to know that if you only have a dollar, $5, $10 to give -- if a million of you do, that you'll make a huge difference," was one of the most notable points he had said after his appointment.
Both former leaders agreed that that cash, rather than goods, is what international relief agencies require at present. They also agreed that American charitable efforts in the affected areas could boost the image of the United States abroad.
The United States has pledged US$350 million in tsunami aid, the largest after Japan's US$500 million. It was criticized for initially pledging US$15 million, and then raising that to US$35 million two days after the disaster struck. He also faced public disapproval for not speaking publicly on the matter for the first three days. U.S. officials revealed that Bush had made phone calls on the matter and raised the pledge immediately when the extent of the disaster became clear.
Bush and Secretary of State Colin Powell, who is currently visiting southern Asia, have promised that additional tens of millions of dollars will be spent on U.S. military operations to aid the affected victims. Millions of dollars have also been raised through donations from citizens. The U.S. government is also facing its largest deficit. Hence private donations are of paramount importance as they would alleviate the strain on the resources of the U.S. treasury.
Earlier the two former leaders had joined President Bush and first lady Laura Bush on a visit to the embassies of the four hardest-hit countries -- Indonesia, Sri Lanka, India and Thailand. President Clinton was exceptionally kind and generous to the affected people, and had cuddled and hugged many of the survivors.
Furthermore, U.S. flags flew at half-staff for almost a week as a sign of respect to the victims.
Conclusion
U.N. officials have said it will cost billions of dollars over a period of years to rebuild the destroyed region. Despite the inflow of international aid, the rebuilding process in hard-hit areas e.g. southern Sri Lanka and Aceh province in Indonesia, has barely started. Around $4 billion has been promised by governments for tsunami aid relief with many hundreds of millions more promised from the private sector.
Coordinating the distribution and cooperation of relief and reconstruction efforts is currently the most important task facing the affected nations and aid agencies. These are the challenging problems awaiting Clinton and his team and we are certain he would be able to do a good job.
References
George Bush. Retrieved April 26, 2005, from http://www.whitehouse.gov/history/presidents/gb41.html
George Bush Presidential Library Foundation. Retrieved April 26, 2005, from http://www.georgebushfoundation.org/bush/
The Honorable George Bush - The forty-first President of the United States. Retrieved April 26, 2005, from http://www.georgebushfoundation.org/bush/html/EndowedLectures/BioPresdntBushNew.htm
Peter Baker and Alan Cooperman, Washington Post. Bush Put Father, Clinton to Work. Retrieved April 26, 2005, from http://www.washingtonpost.com/wp-dyn/articles/A44260-2005Jan3.html
Three Friends - One Goal Distributes More Than $2 Million. Retrieved March 26, 2005, from http://www.clintonfoundation.org/032405-nr-cf-tsu-pr-one-goal-distributes-relief.htm
Clinton named head of U.N. tsunami rebuilding. Retrieved February 2, 2005, from http://www.cnn.com/2005/US/02/01/clinton.tsunami
Ex-presidents launch private aid effort. Retrieved January 4, 2005, from http://www.cnn.com/2005/US/01/03/tsunami.presidents
UN tsunami envoy Bill Clinton to ensure pledges are paid up, money wisely spent. Retrieved April 13, 2005, from http://www.un.org/apps/news/story.asp?NewsID=13966&Cr=tsunami&Cr1
Bush, Clinton tour tsunami-hit areas of Sri Lanka. Retrieved February 21, 2005, from http://www.usatoday.com/news/world/2005-02-21-presidents-tsunami_x.htm
Clinton, Bush Tour Tsunami Damage. Retrieved February 19, 2005, from http://www.cbsnews.com/stories/2004/12/26/world/main663057.shtml
Content Outline