Volunteer Work
Volunteers can provide help to the tsunami victims in many different ways. Some help in the orderly distribution of food, clothes, drinking water and medicine and other basic necessities. Some help clean up the debris and search for the missing, while others bury or cremate the dead, treat the injured in medical camps and relief centers or provide emotional support to those who have lost family in the tragedy.
It is estimated that there are 4 persons injured for every person dead. Thus, professional medical staff is required to provide health care, such as treatment of injury, and vaccination against cholera and other water-borne diseases, which may be rampant, as proper sanitation facilities are non-existent.
In Thailand, local youth who are able to speak a foreign language are volunteering their abilities to help foreigners who are desperately looking for missing family members. While groups of people from the online community have made use of their technological expertise to set up websites which promotes relief aid, or regarding missing persons.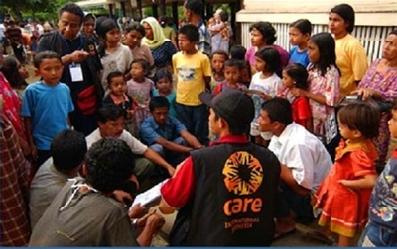 Helping Out
Source
: Care USA
For the rest of us, according to experts, giving money is the most practical and effective assistance one can give. It is not practical to donate food as the cost to transport the food may outweigh the cost of the food itself. Food supplies are also readily available locally.
References
Humanitarian response to the 2004 Indian Ocean earthquake. Wikipedia, the free encyclopedia. Retrieved February 26, 2005, from http://en.wikipedia.org/wiki/Humanitarian_response_to_the_2004_Indian_Ocean_earthquake
Volunteers?role in Asian tsunami disaster relief. World Volunteer Web. Retrieved March 10, 2005, from . http://www.worldvolunteerweb.org/dynamic/cfapps/news/tsunami_news.cfm
BBC NEWS | In Depth | 2004 | Asia quake disaster. BBC News. Retrieved March 1, 2005, from http://news.bbc.co.uk/1/hi/in_depth/world/2004/asia_quake_disaster/default.stm
Content Outline